ABOUT TDco.
Tomahawk Design Co. is a pioneer in the wild industry of graphic design, inviting you to introduce new challenges each day. We welcome every project with bright eyes and full minds, ready to take on your design challenges and create something that is both beautiful and purposeful.
Team Tomahawk has a great mixture of clients and projects, for which we are incredibly grateful. From branding, print and web design to wedding stationery and Maryland products, we love to create—anything and everything—and appreciate our fantastic range of clients who allow for this!
FIERCE
Pursuing design with a fiery ambition while working tirelessly to conquer creative challenges.
STRONG
Small business doesn't mean small minds. Strength is based on the quality of the work, not the quantity of the workers.
PASSIONATE
Chasing solutions that establish what great design can do for you and ensuring your brand will captivate the world.
MEET JILL:
Owner, Designer, and Big Fan of All-Things-Pretty
Hello, thanks so much for stopping by to learn more about Team Tomahawk. As a passionate creator, I live to design and inspire—opening the TDco doors has allowed me to do what I love every single day. From branding, to print, to web, to hand-lettering, we do it all here! We are truly a one-stop shop for all things design.
With experience in the marketing and advertising world, I am incredibly in-tune with my clients' needs and expectations. I begin every project with a promise of your satisfaction with the final product and work tirelessly until we reach that goal. Whether you're in need of a fresh brand, a new website, a wedding suite, or even a custom hand-lettered piece of art for someone special, we can make it happen and I invite you to watch us make vision come to life.
My work reflects all that is around me—the beauty in life, the things we love, the places we go, the words that inspire. I appreciate your interest in Tomahawk and can't wait to create something uniquely for you!
MEET TARA:
Communicator and Chief Snack Organizer
With years of experience in the communications world, I provide organization, plans of action and a drive for implementation of said plans. From event logistics to advertising and writing, my main role at TDco. is helping us gain traction in Maryland communities and get our name out there as a company that loves what we do, the people we serve, and the place we call home.
Also known as the "mom" of the group, when I'm not tackling our newest marketing objectives you can find me at our shows—snacks in hand and fully prepared for any unplanned hiccups that may arise. I'm not really sure what they would do without me and my carrot sticks!
MEET ALLISON:
Idea Machine, Doodler and Workerbee
With a knack for cleverness and creativity, my mind is constantly brewing with new product ideas, design solutions and marketing tactics. Jill and I are able to bounce ideas back and forth to come up with the best possible solutions for our clients and merchandise—we make an excellent creative team! Not to mention I'm quite punny, if I do say so myself.
At events, I'm the lead saleswoman telling the world to shop small, shop local, and most of all...shop Tomahawk! At meetings you can find me doodling all over my notes (it's how I concentrate!) and always suggesting how we can improve our audience's TDco. experience.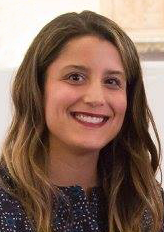 MEET RAQUEL:
Human Calculator and Resident Left-Brainer
Sometimes people are confused when I tell them I help out at a design company, knowing that I am a true #enginerd, focused on math and science. But my role at Tomahawk is just that, doing all the numbers work that these other, more creative ladies, dread! I love analyzing our sales, deciphering the best price point for products, and figuring out how we can make financial improvements to reach both short- and long-term goals.
While I may be considered the nerd of the group, I do dabble in some brainstorming sessions, feeling incredibly proud when my left-brain ideas make the creative cut! Give me numbers and analytics (or my true guilty pleasure: Real Housewives) and I am one happy gal!