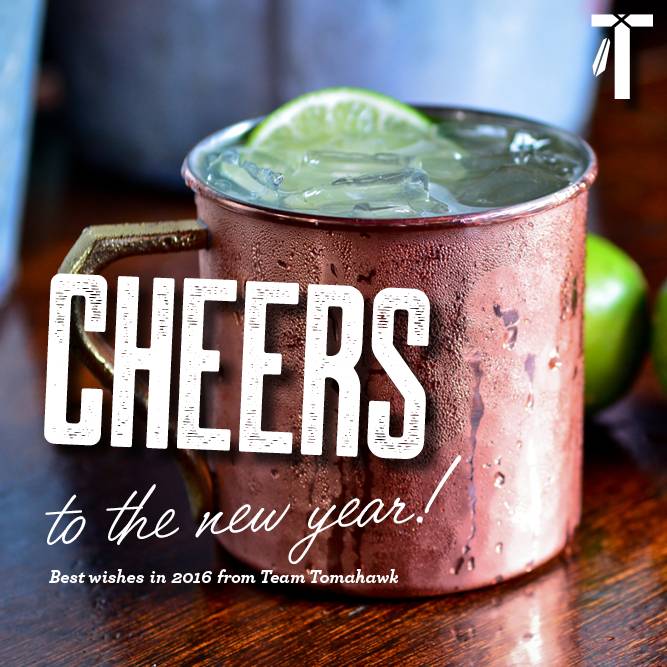 If you love sparkles and bubbly as much as we do, then you're really excited that tonight is New Year's Eve. We love the nostalgia of New Year's Eve — recalling all the wonderful events over the last year that brought us to this moment, sipping drinks with our besties and, of course, snogging our baes at midnight.
Ring in 2016 the way every good Tomahawk should – with a killer toast over a stiff drink! These Baltimore inspired cocktails can be whipped up in no time, and feature some of our favorite local distilleries and breweries.
We're obsessed with the rich, velvety texture of UCB's Snow Pants Oatmeal Stout — a deliciously dark, full bodied, malted ale with an 8% abv (heeyyyy!). Pair this winter perfect beer with another NYE staple – champagne! – for the best Black Velvet you've ever had.
Black Velvet
5 oz. Champagne
5 oz. Union Craft Brewing Snow Pants Oatmeal Stout
Combine all ingredients in a glass and stir. Voila!
---
Mead is a honey-based, cold pressed delicacy made right here in Baltimore, under the careful watch of the brew masters at Charm City Meadworks. A bit of a beer, wine and whiskey hybrid in the production process, mead is first fermented, then barrel oak aged, filtered and, finally, infused with fresh fruits, herbs and spices. And fun fact! The term "honeymoon" originated from the term "mead moon," concerning a tradition in which newlyweds on their wedding night were given enough mead to last them a full lunar cycle in hopes that the aphrodisiac would help them produce a son.
If you told us there was a better drink to share with your beau at midnight than this nectar of the gods, we wouldn't believe you!
Honeycomber
1 ½ oz. Light Rum
½ oz. Triple Sec
1 oz. Sour Mix
Shaker of Mead
Shake with ice & strain into martini glass with sugared rim & lime
---
"Dangerously smooth" is how Blackwater describes their award winning (and organic) Sloop Betty vodka. Funnily enough, that's also how we'd describe our dance moves after a few spent copper mugs on a crowded dance floor. Blackwater has the distinction of being Maryland's oldest craft distillery, and such honor deserves a handsome drink – of equal status – to accompany it to your New Year's Eve dance.
This Moscow Mule recipe is simple enough to let the A-grade vodka take center stage. Here's hoping our skirts twirl as seductively as Betty's tonight.
Moscow Mule
1 1/2 oz. Blackwater Distilling Sloop Betty Vodka
1/2 oz. Fresh Lime Juice
1/4 oz. Simple Syrup
Ginger Beer
Lime Wedges, for garnish