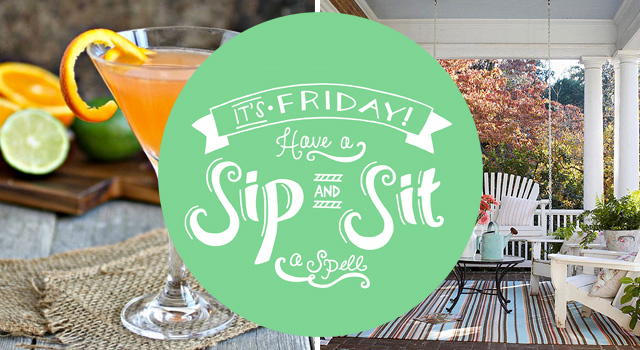 Happy Friday! It's officially the 2nd day of Spring and that, my friends, is reason to celebrate. Dust off that outdoor furniture—but leave the rest of the Spring cleaning for later—because in honor of this luscious seasonal change, today's cocktail and locale both bring about feelings of sunshine, warmth and nature.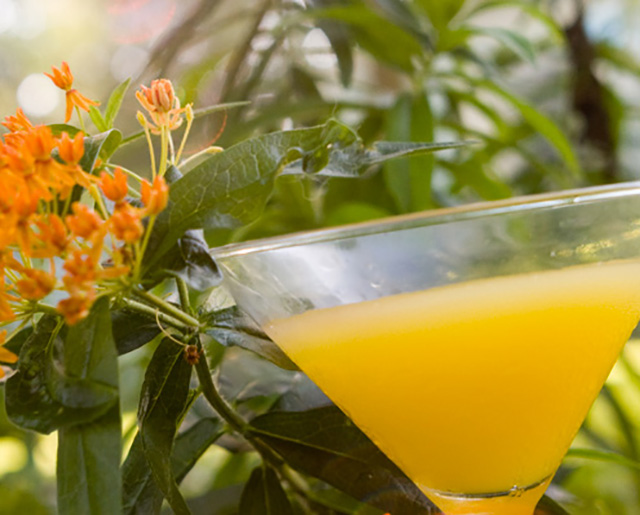 Springtime Martini
Per Serving:
2 oz. Gin
1/2 oz. Orange juice
1/2 oz. Pineapple juice
1/2 oz. Lime juice
1/2 oz. Simple Syrup
1/2 oz. Aperol *
* Aperol is an Italian aperitif, somewhat bitter and with strong notes of grapefruit.
Add all the ingredients to a cocktail shaker filled with ice and shake well.  Pour into chilled martini glasses and garnish with lime.
Recipe compliments of A Cocktail Life!
While some of the leaves in the background of this "sit" suggest a Fall chill, the amount of green on this porch is swaying me towards Spring beauty. The pink Gerber daisies pop against the white wood of the Adirondack chairs; and the soft blue watering can not only serves as a lovely complement, but also hints at the new growth of Spring.
I'd love to enjoy a nice Spring Martini here, soaking in the afternoon sun. Its airy color palette and oversized pillows are drawing me in…not to mention, I'm a sucker for a good porch swing.
Cheers!
J.