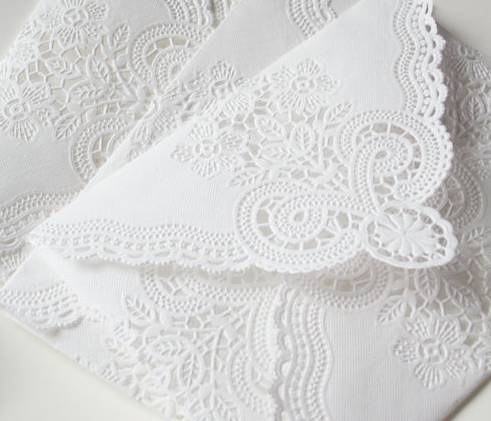 I can't say I've ever been one to fawn over lace. All I could think of were the doilies that served as dainty platforms for my great-grandmother's collection of "treasures" (ashtrays, vases full of fake flowers, you get the idea). However, I've recently discovered that I've been giving the poor gal unjust judgement for quite some time.
While designing the invitations for a friend's wedding, she brought up the idea of using lace throughout the decor. Knowing that—in following good designer protocol—I needed to at least entertain the idea, I began some research and stumbled across these beautiful lace paper envelopes; suddenly my eyes were opened to a brand new world of elegant possibilities.
Here's hoping for more unexpected paper surprises in the near future!
Cheers,
J.